< BACK
How to spend Diamonds
May 21, 2019
How to spend Diamonds
Diamonds are the most precious currency in the game. The main way of obtaining them is to buy them with real money, and some specific items can only be purchased with Diamonds. Here is a detailed introduction on how to spend them wisely so as to get the most out of your Diamonds. Hopefully this will help you avoid wasting your precious Diamonds early on.
First let's look at all the ways to obtain Diamonds:
1. Buying: This is the easiest and fastest way to obtain Diamonds. You enjoy a 200% bonus on your first purchase (buy one get one free). The entrance can be found at Lobby -> Mall -> Diamonds.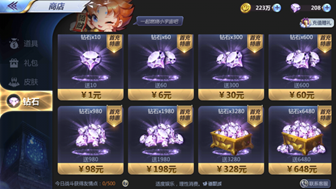 2. Buying the Graude Foundation Level Fund: By purchasing the Level Fund for ¥30, you will receive a 500% rebate in the form of collectible Diamonds numbering 100, 200, 300, 400, and 500 when you reach level 10, 15, 20, 25, and 30 respectively. The Level Fund can be purchased at any time but can only be bought once per player. There is no time limit on claiming the rewards. The entrance is at Lobby -> Event -> Graude Foundation Level Fund.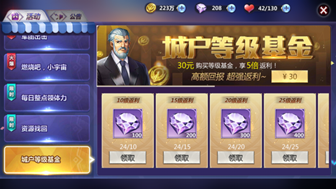 3. Buying Diamond rebate card: There is a Monthly Card - 30 days (exclusive avatar frame (permanent) + 50 Diamonds, 10,000 Gold per day) and a Weekly Card - 7 days (220 Diamonds per day + Diamonds Gift Box and other rewards). All rewards are sent by mail every day at 05:00.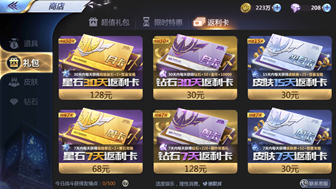 4. Saint Arena is one of the main sources of Diamonds. Rewards are given at 21:00 every night according to your ranking on that day.
5. Galactic Duel is one of the main sources of Diamonds. Rewards are given weekly according to your division.
6. The 9 victory chests in the Training Arena also contain quite a few Diamonds.
7. Advanced Grand Pope's chests have decent chance of containing Diamonds.
8. Partaking in Mystical Treasures is also a good source of Diamonds.
9. Legion content are also great sources of Diamonds.
10. Completing Achievements is another great source of Diamonds.
11. You also gain Diamonds the first time you complete Stories and Bonus Stories.
12. Participating in PvP content and reaching higher divisions is also a great source of Diamonds.
13. Other special events.
There are quite a few different methods by which you can obtain Diamonds. For rich players, buying directly is the quickest and most efficient way. For ordinary players, there are many other viable options. You can grind as many as you like as long as you're willing to do so.
Next, let's see what Diamonds are good for:
1. You buy things when you have money. So naturally the no.1 usage of Diamonds is to purchase rare items from the Mall. If a Mall item has been sold out, it can be refreshed with Diamonds.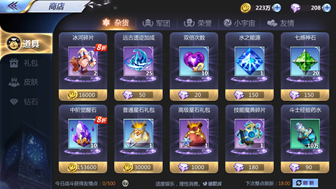 2. Buying Advanced Astral Gems to summon Saints. The cost of 1 Advanced Astral Gems is 100 Diamonds. You can also buy Astral Gem Gift Packs (1,000 Diamonds) from the Mall.
3. Buy Stamina, Gold, etc.
4. Reclaiming rewards: Daily rewards of EXP, Gold and Saint EXP Potions that you have missed can be reclaimed by spending Diamonds on the following day.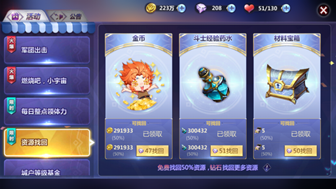 Finally let's talk about how to spend your Diamonds wisely:
Diamonds are very hard to obtain (you can ignore this if you're rich). While there are many ways to earn Diamonds for free, they are either one-time rewards such as Achievements and Story rewards, or periodic rewards such as PvP end-of-Season rewards. Therefore, we must be careful with how we spend them.
There are two types of players: the ones who spend all their Diamonds as soon as they get their hands on them. These players mostly use them on buying Astral Gems to draw Saints, but this usually doesn't end too well. Then there are players who just pile them up and never really use them. Actually, neither of these two approaches are desirable. For beginner players, possessing enough Saints to form a 6-characters-lineup is enough to get through the early stages, there is no need to gamble for late-game Saints. The Diamonds rewarded to players at the beginning are there to help them grow faster, and they are only of any real value when they are used to increase your combat power.
So it is recommended to spend a small amount of Diamonds to summon Saints during the early stages, just to form one effective lineup, rather than to pursue end-game Saints needlessly. The remaining Diamonds should be spent on Stamina, progressing the story, leveling up, and unlocking new game modes. Later in the game Diamonds can be used to buy rare materials such as Awakening and Cosmo enchant locks. If you have more than enough Diamonds, you can try your luck by spending some on summoning Saints, but Stamina should always come first.
When playing games like this you either want to be a whale or a grinder. If you are neither, then you spend a small and reasonable amount of money according to your own economic situation. With in-game transactions, there is no such thing as whether it is worth it or not. You spend money to buy your gaming experience. If it makes you happy, then it is worth it. One last reminder: do not spend money you cannot do without.