< BACK
New Player Guide: Timed Game Content
May 21, 2019
Timed Game Content
There is a lot of interesting game content in the Saint Seiya: Knights of the Zodiac (Tencent) mobile game. Some special game modes are only available at certain times. Here is an explanation of them.
Timed Game Content

Game Content

Event period

Explanation

Sacred Duel

All day

Real Time Cross-server PvP (Solo)

Galactic Duel

Daily 12:00 - 14:00 &
19:00 - 22:00

PvP Ladder/Season (Solo)

Legion Boss

Default is 19:00 - 20:00 every day. This can be set by the legion commander.

Legion members join forces to kill an Another Dimension bosses (Solo)

Legion War

Saturdays 20:00 - 20:20

Legion PvP (Legions with
20+ members)

Legion Elimination

Fridays + Saturdays
20:30 - 22:00

Legion Conquest (Multiplayer)

Virgo Shaka's Quiz

Saturdays + Sundays
13:00 - 13:30

Trivia Quiz (Solo)

Great Sanctuary Adventure

Saturdays + Sundays
10:00 - 22:00

Rich Saints (3-player teams)

Astral Cycle

Daily 12:00 - 24:00

Team challenges with Growth Tomes as rewards
1. Sacred Duel - Unlocks at Level 20
The Sacred Duel is a real-time arena where players from different servers may battle it out and communicate with each other. Players battle with their own Saints and there will be three assist Saints every week. The level, skills and awakening of all Saints are set to the same rank. The bonus attributes for normal Cosmo and basic attributes for legendary Cosmo have been removed, but special attributes of legendary Cosmo still take effect. Tap on a Saint in the lineup menu to view its Cosmo and skills.
Find the Sacred Duel via the PvP menu or by talking to the NPC Aiolia in Town.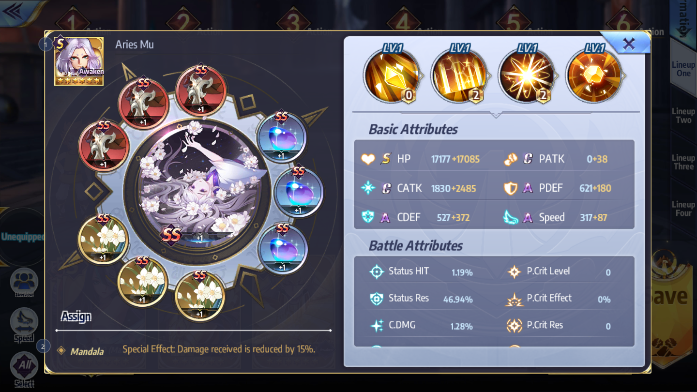 (Tap on a Saint in the lineup menu to view its Cosmo and skills)
There are seven divisions in the Sacred Duel, them being: Apprentice, Elite, Expert, Master, Guru, Vanquisher, and Legendary. Every new division you reach grants rewards.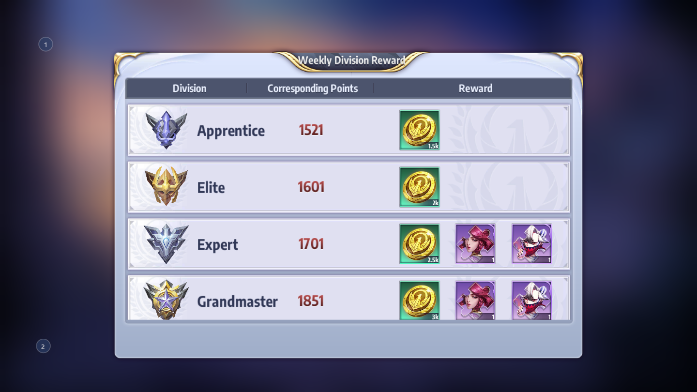 (Sacred Duel Division Rewards)
2. Galactic Duel - Unlocks at Level 18
Includes PvP ladder and seasons. Apart from normal battle rewards, extra rewards are granted at the end of every season (large amounts of Diamonds). Tap on the PvP button in the bottom-right corner and then on the Galactic Duel icon to enter or talk to NPC Camus in Town. It is available every day between 12:00 - 13:00 & 20:00 - 21:30.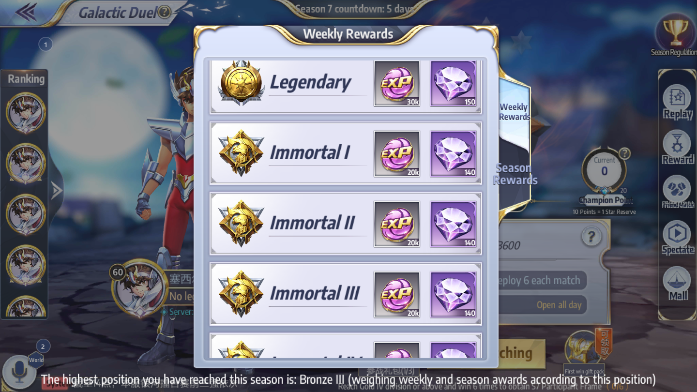 Galactic Duel End of Season Rewards
3. Legion Boss - Unlocks at Level 24
Players in a legion (unlocks at Level 14) can take part in legion bosses. All members join together to fight a powerful boss from Another Dimension—Inferno Cerberus. It is available between 19:00 - 20:00 as a default. The legion commander can change this time as he sees fit and the challenge lasts 1 hour. The boss' level changes depending on the strength of the legion's members. Stronger bosses grant better rewards.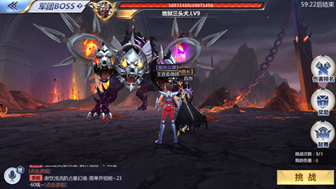 4. Legion War - Unlocks at Level 20
Legion War takes place on a large map with teams battling over resources. Legions with 20 or more members can take part. After two legions have been matched, they may collect Crystals or kill players for points. The team that reaches 5,000 points first wins. If no legion reaches 5,000 points, the legion with the highest points wins.
5. Legion Conquest - Unlocks at Level 20
The Legion Conquest is a game mode where legions test their mettle against each other. The top three legions are bestowed with great rewards. How to participate: The four steps are to sign up, draw lots, set lineups and get promoted.
1. [Signing Up]: On Mondays and Tuesdays, the commanders of all legions may sign up via the Legion Conquest menu. 16 legions will be selected depending on their sign-up points to take part during this week's conquest.
2. [Drawing Lots]: On Wednesdays, the legion commanders of the participating legions will draw lots to decide the seeding.
3. [Lineups]: Every legion dispatches 5 teams: 1v1, 1v1, 2v2, 2v2 and 3v3. On Thursdays, legion commanders of the participating legions set up their lineups and dispatch the required members.
4. [Promotions]: The top 16 and quarterfinals competitions are held on Fridays, and the semifinals and finals on Saturdays.
Every legion dispatch 5 teams: 1v1, 1v1, 2v2, 2v2 and 3v3. The winners are promoted.
6. Virgo Shaka's Quiz - Unlocks at Level 15
This is available on weekends at 13:00 - 13:30. During the quiz, everyone has 10 chances to get rewards. If you don't know the answer, you can choose not to answer without it affecting your reward chances. The legion members who are the quickest to answer will have their answers displayed for their other legion members.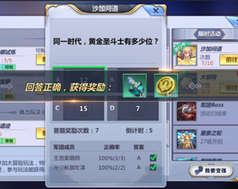 Players will get Saint experience and Gold for each question answered correctly.
7. Sanctuary Great Adventure - Unlocks at Level 19
This event can only be accessed on Saturdays and Sundays and mostly grant Saint Shards. Players take part in teams of three. A dice will be tossed and players take steps equal to the number of pips showed. Rewards increase with each chest opened. This is a monopoly-style game content. The entrance is at the NPC Aries Mu in Town or from the limited time event entrance. Event rewards have to be claimed manually from the NPC.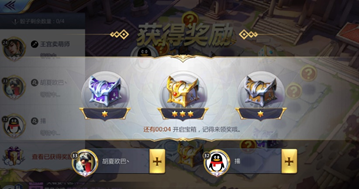 (Great Adventure Reward)
8. Astral Cycle - Unlocks at Level 27
This is available daily at 12:00 - 24:00 and players enter in teams of 2. There is no limit to the number of challenges. The challenge resets every week and the rewards can only be claimed once per week. The instance consists of one battle with 3 waves of enemies. Each wave lasts up to 5 rounds; defeat the enemies to win.
There are four sets of rewards and each one grants an Advanced Growth Tome.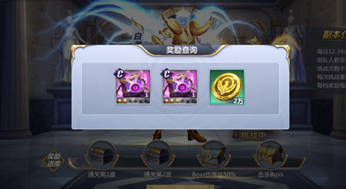 (Quest Rewards)