< BACK
PVP: Galactic Duel
May 21, 2019
Galactic Duel
Introduction:
Evil is spreading across the earth and Athena summons you Saints for a final test to test the results of your training.
Entrance:
Tap on the PvP button in the bottom-right corner and then on the Galactic Duel icon to enter or talk to NPC Camus in Town. It is available every day between 12:00 - 14:00 & 19:00 - 22:00.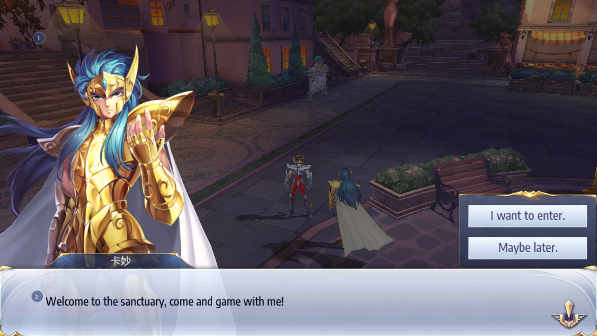 Rules:
Tap to start matchmaking and find an opponent of similar strength to yourself. Matchmaking might take a moment, so please be patient.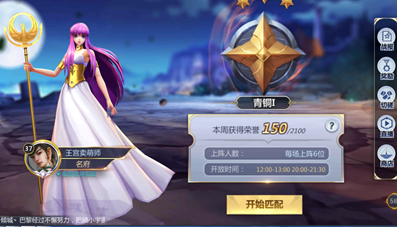 Each team consists of 6 Saints; you'll have 2 energy during the 1st round, 4 during the 2nd, 6 during the 3rd, and 8 from the 4th round and onward. After each round, a 15% damage buff is applied to both teams.
Both players control their Saints manually in real time. You can choose between battling manual or auto battle. The team which eliminates all enemy Saints, wins. If you surrender or force quit the game during a battle, it'll be considered as your loss. The losing team loses one Star, and the winner gains one Star.
Divisions:
There are seven division in the Galactic Duel: Bronze, Silver, Gold, Platinum, Diamond, Vanquishers, and Legendary. Each one of them is also divided up into smaller sub-divisions: Bronze I, Bronze II, Bronze III. All players begin in Bronze III. Winning a battle grants one Star, and after getting three Stars, you get promoted to a new division (or rather, a new sub-division). Losing a battle means losing a Star, and when you lose all your stars on your current sub-division, you get demoted. Legendary division is the only division which you can be demoted from after you lose. Losing all your stars in other divisions won't get you demoted.
Rewards:
1. Basic battle rewards
Every battle grants Honor. The winner gets more than the loser. There's a limit to the amount of Honor you can get per week, and this limit changes depending on your division. Honor can be used in the Honor Shop to buy rare items.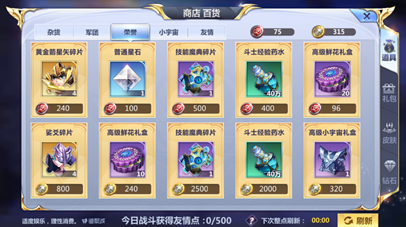 2. Weekly division rewards
You'll get rewards depending on your previous week's performance every Monday at 05:00. The rewards can be viewed by tapping on your division icon. These rewards will be sent by mail so don't forget to claim them.
3. Season rewards
On the first day of every month, a monthly reward will be sent out in accordance to each player's division, and divisions will be reset. Season rewards can be checked via the Season Reward icon on the right-hand side. The new season's divisions follow in the wake of the old season. Be sure to take note of official announcement for more info.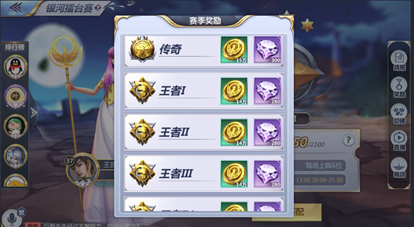 You can invite online friends to friendly matches in the Galactic Duel whenever you want (this can be done even when it is otherwise not available). The entrance to this is on the right-hand side. Friendly matches grant no rewards, but give Saint Experience and are played purely for fun.
Ranking:
Rankings can be viewed on the left side of the page. The rankings are based on the division and number of stars of all participating Saints and are divided into Friend, Server, and Region rankings. The Friend ranking ranks only your friends. You can tap the player bar in the ranking to view the player's PvP lineup and the Recap button for the player's latest combat status. In the Region ranking, you can view player rankings across multiple servers.
Sharing battle results:
Open the Battle Recap menu by tapping the corresponding button on the right-hand side. There you can check your recent Galactic Duel battles. Apart from checking them yourself, you can also share recordings with your friends and in your legion. Hope you enjoy watching the battles play out!