< BACK
PVP: Training Arena
May 21, 2019
Training Arena
Introduction:
The Training Arena is available all day and it is divided into Skill Training and Battle Training. In Skill Training, you can learn basic strategies, as well as some advanced ones, too! In battle training you get to try out the strategies you learn during Skill Training.
Skill Training is itself divided up into Beginner Training, Elite Training and Hero Training (hero training is not yet available). Beginner Training lets you learn various basic strategies, and in Elite Training you can learn more advanced techniques.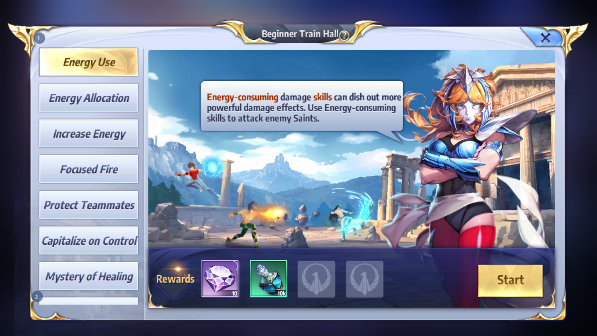 (Beginner Training)
The most basic battle strategies are taught in the beginner training. Here, you have to complete each stage with a pre-designed lineup. This lineups attributes and skills cannot be altered and are not affected by your own Saints. All battles have to be completed manually, so check your skills and take note of the hints to pass each stage. Each cleared stage grants a few Diamonds.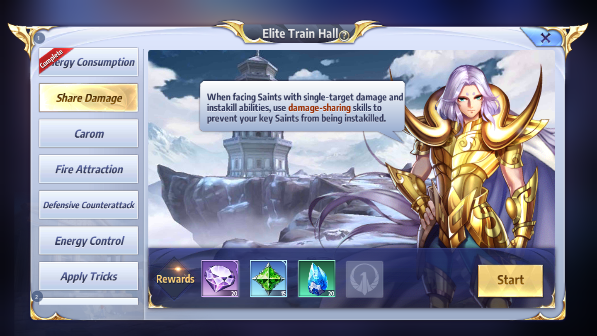 (Elite Training)
In Elite Training you'll learn more advanced battle strategies. During these battles, you have a set lineup and battles are also done manually. The first time you clear a stage grants you Diamonds. Elite Training stages are rather difficult, so be sure to read all the information given before starting the battles.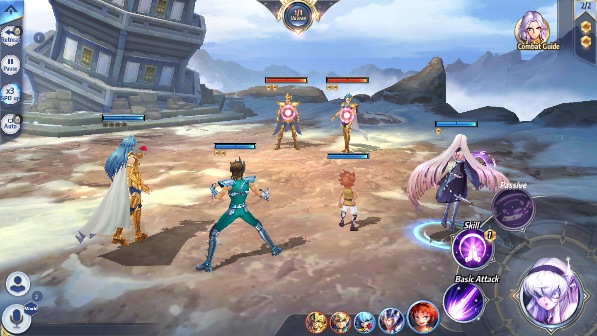 (Battle Guidance)
Beginner Training and Elite Training focuses on battle strategies. These training battles should follow a certain course, and if you deviate from this course, you'll be wiped out immediately and the battle fails. Failing a challenge isn't that bad as you can just restart it again.
Entrance:
Find Battle Training by tapping the PvP button in the bottom right corner and then tapping the Training Arena icon.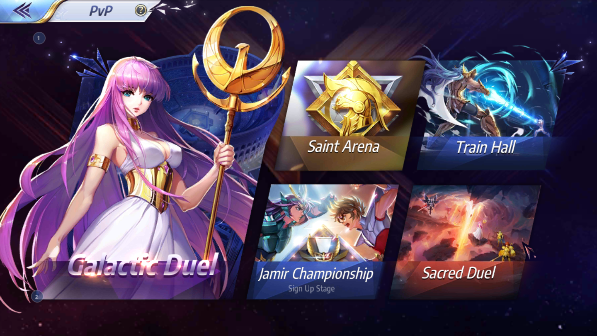 Training Arena can be entered via the Battle Training in the Lobby.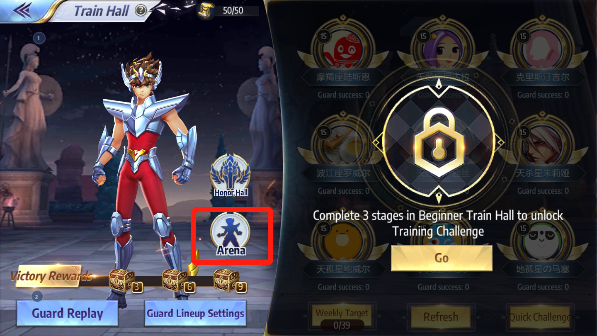 Battle training rules:
After defeating 9 opponents, the next round of enemies will increase in difficulty. Clearing three different Beginner Trainings unlocks the Training Arena. If you're not happy with your enemies, you can tap Refresh to get a group of enemies to choose from. Refreshing also resets your current win progress.
Challenges follow the same rules as PvP. Each team consists of 6 Saints; you'll have 2 energy during the 1st round, 4 during the 2nd, 6 during the 3rd, and 8 from the 4th round and onward. After each round, a 15% damage buff is applied to both teams. Battle assists cannot be triggered. The team which eliminates all enemy Saints, wins. If you surrender or force quit the game during a battle, it'll be considered as your loss. Each battle costs a Challenge Voucher to enter. Challenge Vouchers drops from any game content which costs Stamina.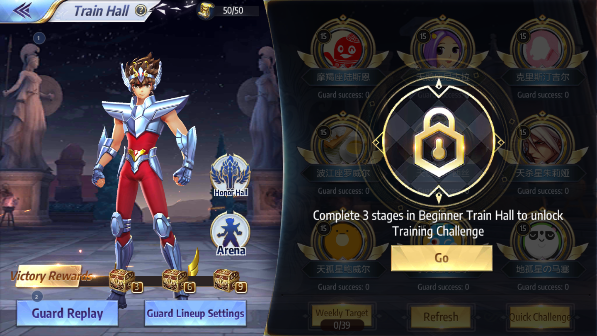 Quest rewards:
Complete the weekly training objective for rewards. Each completed objective grants one reward. These objectives are reset at 05:00 every Monday. Each victory gets added to your win-streak, and you get extra reward chests when your win-streak reaches 3, 6, and 9.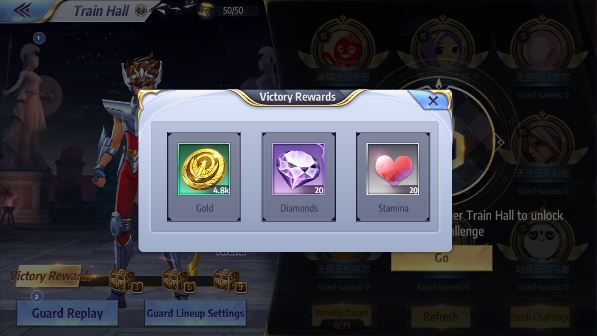 (Win-Streak Chest)
The three players with the most defense victories every week will be shown in the Hall of Honor; they'll also receive a reward via mail.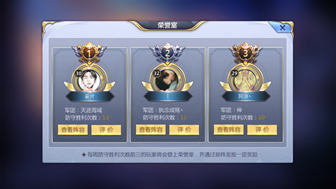 (Hall of Honor)